Miniature orchids are cute. Miniature cattleyas are even more so. 
Not only do they stay tiny to 2 to 8 inches (3-20 cm) tall in their mature size, their flowers are often large and showy with vibrant colors.  Some even have a unique, sweet fragrance.
Save this article to find your favorite miniature cattleya to add to your collection.
1. Cattleya lucasiana
Cattleya lucasiana is the smallest miniature orchid that grows up to 2-3 inches (5-7.6 cm) only.  
But it has flower stems that are 5-8 inches long and gorgeous flowers that can spread to 1 3/4″ (3 to 5 cm) wide. Its blooms have flat pink petals and a yellow lip. 
It grows on rock fissures in Brazil.  It can be potted up with a coarse medium such as LECA.  It thrives in a well-ventilated, quick-drying growing medium and bright light.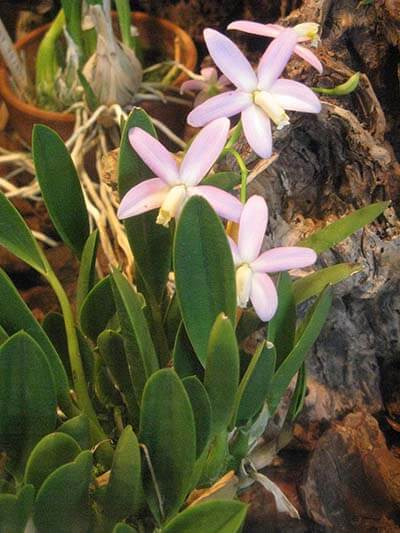 2. Cattleya bicalhoi
Also known as Laelia dayana, Cattleya bicalhoi is one of the smallest miniature orchids which can grow up to 4 inches (10 cm) only but its flowers are large measuring between 4-7 cm in diameter.
It blooms have beautiful white or pink petals and a purple lip. 
It can bloom in summer and fall. It naturally grows in tropical forests around 3000 feet in Brazil.
It grows well in bright shades.
4. Cattleya coccinea (or Sophronitis coccinea)
The plant is also known as Sophronitis coccinea (also commonly known as "Scarlett Cattleya" or "The Scarlet Sophronitis") because it was formerly considered as part of the genus Sophronitis.
But it is now considered a Cattleya, identified as a cross between Cattelya brevipedunculata and Cattelya cernua.
The whole plant is tiny (4-6 inches or 10-15 cm) with large orange-red flowers (1.5-3 inches or 5-8cm wide).
It has compact pseudobulbs less than 1 inch tall. 
Its petals are orange red or red in color.  It blooms year-round with flowers that can last for 6 to 8 weeks.
Unlike most other cattleyas, it is not fragrant.
It is native to the tropical mountainous rainforests of Brazil, with warm temperatures (between high 30's F or 3C and 80F or 27C) and high humidity throughout the day.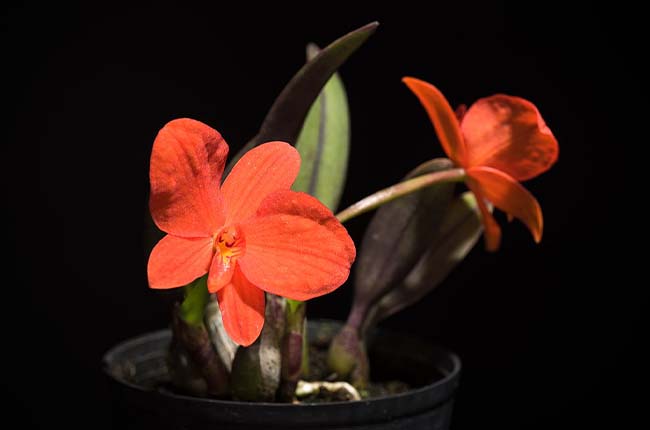 5. Cattleya aclandiae
Cattleya aclandiae is a compact orchid that can grow up to 3–5 inches (7.6–12.7 cm) only.  
But its flowers are large and showy, typically measuring between 2.4 – 4 inches (6 – 10 cm) in diameter. 
The flowers have purple lip and yellow sepals and petals with a purple spotted, leopard print-like pattern.  It blooms in spring and summer.
The pseudobulbs are short and conical, typically reaching just 1–2 cm in length.
The leaves are long and narrow, measuring up to 25 cm in length and up to 4 cm wide.
It is native to Brazil.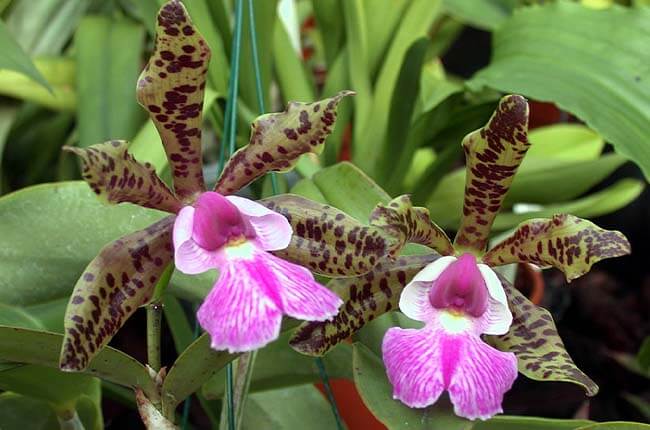 6. Cattleya citrina
Cattleya citrina (also known as "tulip orchid") is also a compact miniature cattleya with tightly clustered pseudobulbs, which is 1.6-2.4 inches (4-6 cm) in length. 
Its flowers have a unique, strong lemon fragrance.  Its blooms are bright yellow and are large measuring up to 2.0–2.6 inches (5–6.5 cm) in diameter.
It grows hanging upside down off from a large tree in cool, dry environments.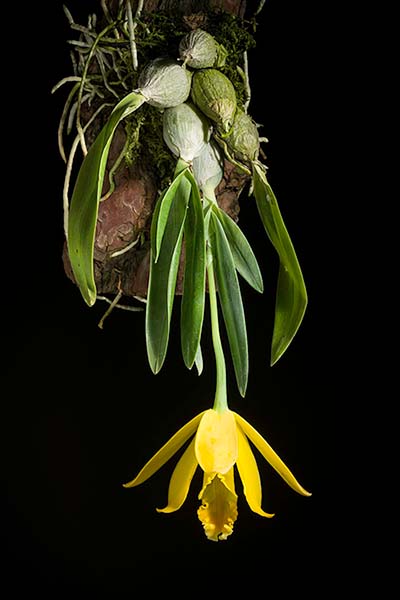 7. Cattleya intermedia
Cattleya intermedia has a compact form which is around 5-8 inches (13-20cm) tall with large flat flowers that can spread up to 3.5 inches (9cm) wide.
Cattleya intermedia comes in a variety of colors but the typical variety has pale lavender petals with a purple lip and has a sweet fragrance like roses.
It is native to Brazil.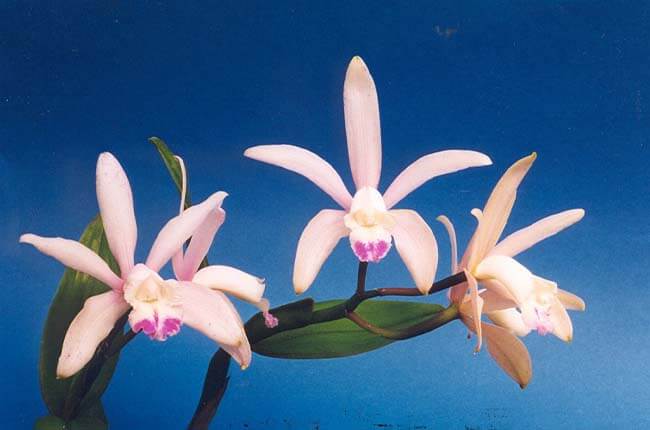 8. Cattleya kerrii
Cattleya Kerrii has a medium size for a miniature orchid, measuring up to 6-11 inches (15-30 cm) tall. 
Its flowers spread up to 1.6-3 inches (4-7 cm) wide.  It blooms in the summer with light purple petals and a white lip.
It thrives in warm temperatures and is native to Brazil.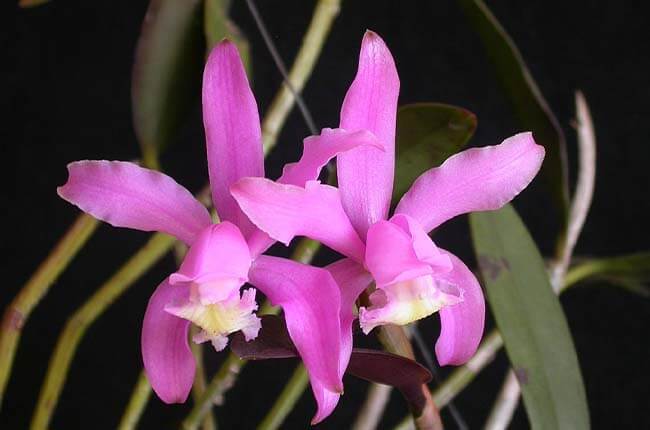 What is your favorite mini-Cattleya?  Check out our list of miniature Phalaenopsis as well.
Happy gardening!
Related
17 Amazing Full-Sun Orchids (With Pictures)